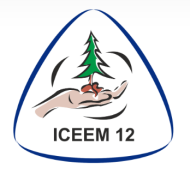 12th International Conference on Environmental Engineering and Management (ICEEM12)
13th - 16th September 2023, in Iasi, Romania
The conference will be organized by "Gheorghe Asachi" Technical University of Iasi, Romania in collaboration with Universitá Politecnica delle Marche, Italy..
Under the headline Circular Economy and Sustainability, ICEEM12 will be a platform for scientific dissemination boosting internationalization, multi-disciplinarity and collaboration in research. ICEEM12 invites academia, industry and societal representatives to contribute innovative, multi-disciplinarity and cross-sectorial research to tackle current and future environmental and sustainability problems.
The ICEEM12 language is English and the conference topics are:
I. Environmental biotechnology
II. Water and wastewater cycles in the context of circular (bio)economy
III. Waste management in the context of circular (bio)economy
IV. Sustainability assessment & eco-innovation
V. Novel materials for environmental and energy applications
VI. Monitoring and modelling of environmental pollution
VII. Thematic workshops.
Participation at ICEEM 12 is based on an abstract selection process which will be done by the International Scientific Committee. The extended abstract (2 pages, about 800 words), following the ICEEM12 template ,should be submitted until MARCH 6th , 2023 exclusively on the conference dedicated webpage. The accepted abstracts will be published electronically in a Book of Abstracts (with ISBN).
After the abstract acceptance, the registration forms for ICEEM12 participation will be available only online at www.iceem.tuiasi.ro The full early conference fee is 300 EURO (until June 30th 2023) and will cover the conference materials (Program, Abstracts book), coffee breaks, lunches and conference dinner.
Reduced conference fees are available for PhD students and accompanying persons; please check the fees page for more details).
Approximately 10 PhD fellowships will be made available by the organisers and will cover the fees costs for PhD participants based on a selection process described in the Registration section at www.iceem.tuiasi.ro"
The International Scientific Committee will select the best abstracts/presentations and their authors will be invited, after ICEEM12 conference, to submit full papers to the following peer-reviewed international journals:
Invited papers submitted to these journals will be handled considering their specific publication policy and peer review process.
More information about this edition may be found at: www.iceem.tuiasi.ro
More information about previous ICEEM conferences may be found at: http://www.iceem.tuiasi.ro/?page_id=279
Contact details: [email protected]