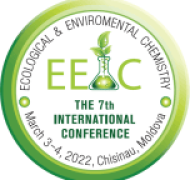 On March 3-4, 2022, in Chisinau, Republic of Moldova was held the 7th International Conference: "Ecological and Environmental Chemistry" (EEC-2022), with organizational and financial support from the following organizations: Chemical Society of the Republic of Moldova, Institute of Chemistry, State University of Moldova, Technical University of Moldova, Institute of Ecology and Geography, Academy of Sciences of Moldova, Moldovan Research and Development Association and "Constantin Stere" University of European Political and Economic Studies of the Republic of Moldova.
The EEC-2022 Conference topics were selected in correspondence with the Sustainable Development Goals established by UN till 2030.
Ecological Chemistry started to develop in Moldova since late 70ies - early 80ies of the last century. The First International Ecological Chemistry School was held in Moldova in 1985, where the decision was taken to consolidate the efforts for organization of periodical international conferences in the field with the involvement of experienced and young researchers from all around the world.  Since then, for over 35 years, this field has been intensively expanding being among the topical priorities of the sustainable development in science and technology. 
The EEC-2022 Conference is part of a series of successful conferences organized in 1995, 2002, 2005, 2008, 2012 and 2017, supported by different international organizations such as UNESCO, CRDF/MRDA, CEI, NATO, ONRG, as well as the local R&D organizations.
The EEC-2022 Conference was an important international event that attracted more than 270 scientists, researchers, engineers, experts and students from 30 countries, specifically:  Armenia, Algeria, Azerbaijan, Belarus, Brazil, Canada, China, Czech Republic, Finland, France, Georgia, Hungary, Israel, Italy, Iraq, Kazakhstan, Moldova, Montenegro, Morocco, Poland, Romania, Russia, South Korea, Switzerland, Turkey, Vietnam, Ukraine, Uzbekistan and USA.
   Within the EEC-2022 Conference the following presentations were held:
The Academic Lecture, delivered by Academician, Professor Gheorghe Duca;
8 Plenary Presentations provided by worldwide recognized scientists;
80 Oral Presentations in the Five Parallel Sessions, presented by the experienced and young scientists from the above mentioned countries;
165 Poster Presentations discussed on-line by the conference participants.

The two Volumes of the Abstract Book have been published, which include 260 Abstracts presented by participants of the EEC-2022 Conference.
Considering the theoretical and applied contributions of Ecological Chemistry the conference participants underlined the numerous aspects related to the interdisciplinary approach to ecological and environmental chemistry in strengthening of research-education-innovation, strengthening of basic and applied research of physical-chemical and chemical-biological processes of interactions between the living organisms and environment, necessity of resolving of ecological problems in different spheres of human activities, elaboration of the advanced and environmentally friendly technologies, etc.
EEC-2022 Organizing Committee
[email protected]
http://eec-2022.mrda.md/